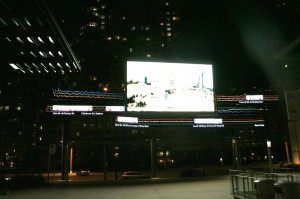 This weekend was Nuit Blanche in Toronto, but it was Culture Days across the country. As part of Mississauga's Culture Days celebration, I presented a new piece called "Looking at MiWay." It was my first art exhibition in a few years, my first solo piece, and my first "data art" piece. Here's the blurb about it:
Looking at MiWay is a real-time data art piece which reveals a new view on Mississauga's transit system.

Using the unique ribbon screens at Mississauga Celebration Square and MiWay bus schedule data, the piece is a playful representation of every bus that's stopping (or would stop if requested) in the city — right now.

Each time a bus stops on one of the screens, that bus — indicated by the route number — is stopping (if requested) at the intersection named underneath.

The result shows us a surprisingly busy system: over 10 stops per second at the peak of rush hour, which on screen appears as a blur of buses. At any time of day, a glance at the screens will give you a sense of the number of buses — and people — moving around Mississauga at that moment.

Due to the unavailability of updated schedule data from MiWay, the exhibition of the piece in Mississauga Celebration Square is not running in real-time, and is instead a display of a demo video loop. Hopefully the updated schedule will be made available at some point in the future, at which time the piece will be able to run as a real-time visualization, as intended.
And I've posted some photos and video on Picasa.
My intent is to approach MiWay sometime in the future, to hopefully get their support on the project, and with luck get it up on the Celebration Square screens again.
In addition to completing that piece, I spent last week completing a few other proposals which felt great. Lots of new projects afoot!