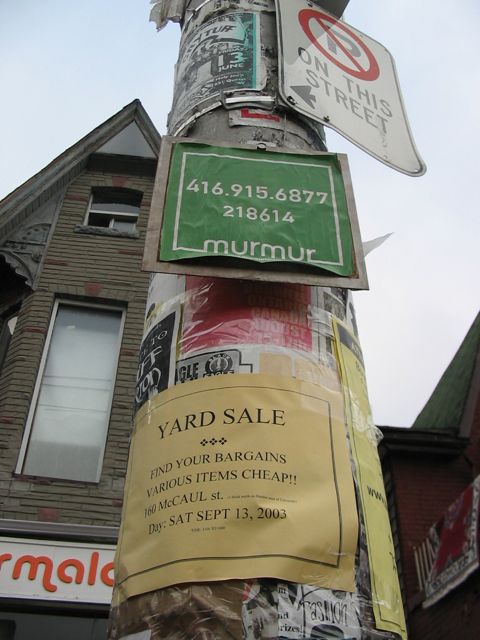 Ten years ago tonight, James Roussel and I skulked around Kensington Market, awkwardly attaching incredibly heavy homemade square steel signs to various poles, lugging armloads of tools and trying to not to look conspicuous.
In the early hours of the morning, I went back to my apartment on Crawford Ave., and checked on the big, loud, ugly computer in my hall closet — which answered the calls and played the stories. No calls yet.
Over the next five years, James and [Shawn] and I launched [murmur] in lots of new places. Everyone loved the project, but we struggled to find a way to bring in enough revenue that we could make it our main gig. Eventually we gave up, realizing that for us to pursue any of the lucrative paths would mean losing the parts of the project that we loved the most.
When we set sail with our "art project," it took me to Vancouver and Montreal, Edinburgh and Dublin, San Jose, Sao Paulo and Melbourne. And it opened doors for other projects, which we needed to pursue in order to pay the rent. But it was an ideal education in getting things done, in how to make compromises, and pitching and negotiating. Hearing and capturing all the amazing stories was the wonderful bonus.
I've fallen out of touch with the project in the past few years as I've moved on to other things, but I owe a great deal to those green signs, to Shawn and James, and to the dozens of people around the world who devoted so many hours of their time to sharing little stories.